Boost

YOURAD.COM -

Custom

CARS

FOR

 

Sale Inc.

www.carstrucksbikesandboats.com
Find new and used Cars, Trucks, Bikes and Boats for sale on BoostYourAd.com.   Custom Cars For Sale Inc. platform features Pro Touring - Restomods, Classic Muscle Cars, Lifted Trucks, Motorcycles, Enclosed Trailers, Cabin Cruisers, Yachts, OffShore Boats and more.   BOOST YOUR AD multi-site listing platform is for enthusiasts looking to buy and sell Custom Cars, Lifted Jeeps, Enduro Dual Sport Motorcycles, Motocross Bikes, Quads, Modern Muscle Cars, Race Cars, Exotic SuperCars, Race Engines, Aftermarket Parts & Accessories and Boat Trailers. 
CCFS IS DESIGNED BY ENTHUSIASTS FOR ENTHUSIASTS
With over 300 specialty sites launching in 2023, our goal is to give sellers 10x the presence on multiple sites in our network for one low price and allow buyers a one stop shop from listings nationwide. We also have listings for Daily Drivers, Work Trucks, Industrial Trailers, Big Rigs, Restoration Parts, & offer in-house specialty services such as Remote Inspections, Transport, Financing, and PR/Marketing Campaigns. For a limited time, we are offering FREE listings on the main site for Private Sellers and long-term discount packages for Dealers.  
Silverado, TRX, RAM, F250, Wrangler, Titan, Tacoma, Hellcat, Porsche, Ferrari, Lamborghini, Chevelle, Mustang, Torino, Z06 Corvette, Z28 Camaro SS, Firebird Trans Am, Nova, GTO, Barracuda, Charger, Road Runner, Challenger, 442, Cougar, Coronet, & Shelby American Classic Muscle Cars
DEALERS CAN SELECT A LOW MONTHLY FLAT RATE OR PAY PER CLICK
WHAT MAKES CCFS BOOST YOUR AD BETTER FOR PRIVATE SELLERS, DEALERS AND BUYERS?
Our focused specialty sites and simple listing format directly link serious buyers to a private seller native ad listing, auction or dealer site listing with a click of the inquiry button.  There are no contact forms or delays. All we need is a private seller native ad link and for dealers in most instances, we can use our proprietary method of data extraction with regular updates vs setting up feeds.  To join our dealer listings, we simply email a docusign and payment link and we take care of the rest. We load your entire inventory right away.  Pay monthly flat fee based on average inventory or Pay Per Click.  It's that easy!
Our simple listings format BOOSTS Your Ad across our entire platform on relevant sites within our network whether Private Seller, Auction site or Dealer site so there is no need to build another ad or pay for multiple standalone sites to get more exposure. One listing can be seen on our main site and numerous specialty sites.
Private sellers can Boost a Hemmings, Facebook Marketplace, Ebay, AutoTrader, BAT Auction, ClassicAutotrader, RacingJunk, Craigslist, CarGurus, KBB, Edmunds, BoatTrader, or CycleTrader listing to name a few for one low cost. For Dealers, we can save you thousands on 3rd party listing costs and are a DIRECT link to your Dealer website listing where visitors can also view your full inventory. (Dealer Inquiry 800-927-9771)
Buyers can browse the main site categories or visit our growing network of extended platform specialty sites that are specific to a category, style, make or model such as:
ProTouringforsale.com, CertifiedPreOwnedforsale.com, PreownedTruckforsale.com, CustomTruckforsale.com, ClassicMuscleCarforsale.com, ModernMuscleCarsforsale.com,  ClassicRestorationParts.com, AftermarketPartsforsale.com, CustomWheelsforsale.com, PreOwnedBoatsforsale.net, CabinCruiserforsale.com, OffShoreBoatforsale.com, EnclosedTrailerforsale.com, Enduroforsale.com,  AmericanMuscleCarforsale.com,
 LiftedJeepsforsale.com, 69Camaroforsale.com, 68Camaroforsale.com, 67Camaroforsale.com,
Coming Soon to CCFS are Fastbacksforsale.com, BarnFindforsale.com, RaceEngineforsale.com, BigBlockforsale.com, CertifiedTrucksforsale.com, LuxuryVehiclesforsale.com, GoFastBoatforsale.com & RaceCar-forsale.com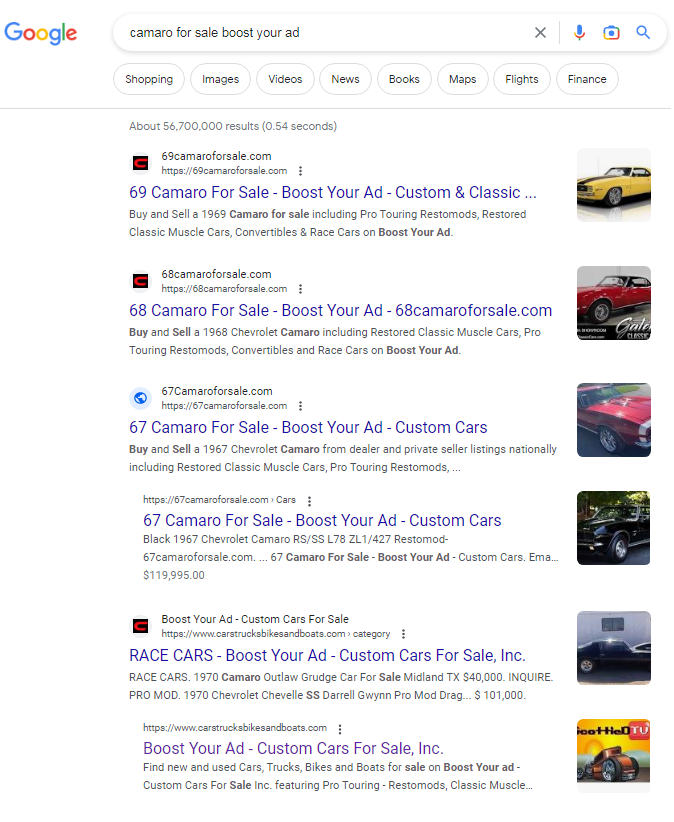 CCFS logo "Your Source for Show and Go" and B logo "BoostYourAd.com" are registered Trademarks of Custom Cars For Sale, Inc.